Additional Return Air Runs
Solve many system airflow problems
Lack of return air is a very common problem for those systems that were either poorly designed or originally planned for heat only applications. Adding additional returns to your system allows for greater supply air into your home, resulting in better airflow and comfort for your family. The benefits you will receive by taking care of this problem include: quieter operation, better airflow, fewer repairs, longer life of your equipment, lower utility bills and, best of all, greater comfort.
Attic Ventilator
Take a load off your air conditioner
Have you ever been in your attic in the middle of the summer? It's HOT! That's why you need an attic ventilator. Assisting your air conditioner in cooling your home and in lowering your utility bills, an attic ventilator exhausts the hot air from your attic and brings in cooler air from the outside. This circulation of air greatly reduces the heat load on your home allowing your air conditioner to work more efficiently and to cool your home faster. Adding an attic ventilator to your home will save you money and make you more comfortable.
Programmable Thermostat
Saving energy with virtually no effort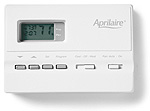 A programmable thermostat is designed for people with fixed schedules that take them in and out of the home. With it, you can program the temperature to "set-back" when you are not at home. This feature keeps you comfortable when you're home and saves you money when you're not by reducing the energy needs to heat and cool your home.
Programable thermostats are available in what are called 5+2 day configurations and 7-day configurations. The difference is flexibility. A 5+2 day configuration allows you to set Monday-Friday as a group setting with up to four different time settings. This configuration also allows you to set Saturday and Sunday as a separate group with up to four different time settings per day. The 7-day configuration thermostat allows you to program each day differently with up to four different time settings per day.